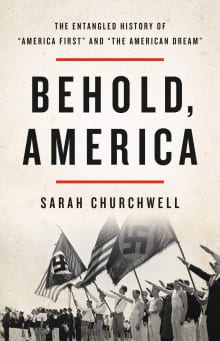 Behold, America: The Entangled History of America First and the American Dream
By Sarah Churchwell
Why this book?
The book explores the complicated historic interaction among what for many are understood to be opposing tendencies of American life. On the one hand, the promise of the 'American Dream,' long held as an ethos of America and associated with expectations of liberty, equality, and access to opportunity. While the phrase 'America First' is more often associated with isolationist and nativist campaigns, intolerance of others, and even supremacist ideology. 
Yet, as Churchwell reveals, during times of economic, social, or international crisis the appeal of demagoguery would enable the twisting of the meaning of these two phrases for particular and sometimes…
From the list:
The best books on the ideals, aspirations, and unfulfilled promises in American civilization
When you buy a book we may earn a small commission.