Sutton's Spinster
By Scarlett Scott,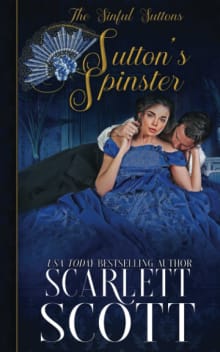 Recommended by Alyson Chase
From Alyson's list on naughty historical romance to heat up your nights.
One of the tropes I always one-click is the well-bred lady with an earthy, pull-himself-up-by-the-bootstraps kind of guy. Sutton's Spinster gives you all that and more. Jasper has built his wealth by running a successful gaming hell. When two young daughters land on his doorstep, he finds himself in need of a wife. Octavia dreams of creating a gossip journal, but needs a partner to provide the start-up funds. The heat between these two lights up the pages. I love how Jasper reacts to suddenly becoming a father, and how he transforms from a hard and cutthroat businessman to something softer because of Octavia. Scarlett Scott delivered with this one.
---