The Jump-Off Creek
By Molly Gloss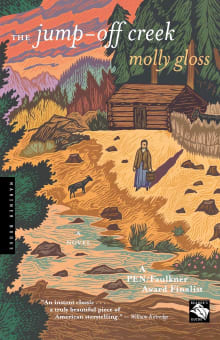 Why this book?
An immersive and atmospheric novel, The Jump-Off Creek follows a taciturn widow named Lydia into the Oregon wilderness where she hopes to homestead. Resourceful, fiercely independent (and determined to stay that way) she nonetheless finds herself drawn into a bedraggled community of homesteaders and frontiersmen. Yes, there's a love interest, but that is a subplot, not the story. The story is one of survival and grit set in a landscape as beautiful and unforgiving as the weather.
Molly Gloss is a master storyteller. I find each of her books quite different but equally compelling. The Jump-Off Creek might be my favorite only because it was my first taste of her work. And, of course, I remain in awe of the indomitable Lydia.
---
When you buy a book we may earn a small commission.