Wieland or the Transformation
By Charles Brockden Brown,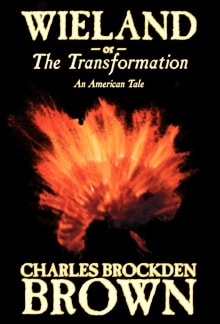 Why this book?
Until I entered grad school for my Ph.D. in American literature, I had never heard the name Charles Brockden Brown and my guess is that few people alive today would recognize it. In his own time, however, he was an important literary figure. The author of a quartet of books composed in a yearlong creative frenzy at the close of the 18th century, he is regarded as "The Father of the American Novel." As the creator of our nation's first Gothic fiction, he was a major influence on writers like Poe and Hawthorne. His 1798 novel Wieland was inspired by a sensational crime that happened seventeen years earlier in upstate New York, when a farmer named James Yates, allegedly acting under orders from a divine voice, slaughtered his entire family. If by "best" we're talking about most enjoyably readable, then Wieland, like all Brown's novels, doesn't exactly qualify. But it's a fascinating book by a seminal figure in our national literature. I ended up writing a chapter of my Ph.D. dissertation about him!
---