From the Jaws of Victory
By Matt Garcia,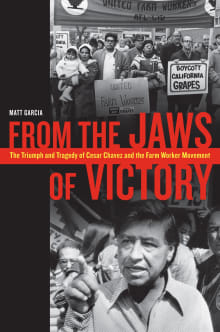 Recommended by Allyson Brantley
From Allyson's list on boycotts & consumer activism.
The literature on Cesar Chavez, the United Farm Workers, and their boycott campaigns is quite extensive. Matt Garcia's is one of the best accounts of the Farm Workers' strategy of boycotting grapes, lettuce, and other items to build power and win a union. What I especially appreciate about Garcia's account is, first, his focus on the innovations in consumer activism brought about by the UFW. Organizers and workers made their boycott succeed by going into cities, living together in boycott houses, and appealing to urban consumers. Garcia's accounts of boycott houses and organizers' efforts from Los Angeles to Toronto and London are excellent. Second, Garcia doesn't stray from critiquing the boycott tactic and noting places where it fell short – making this a cautionary tale for activists today.
---