Portia
By Edith B. Gelles,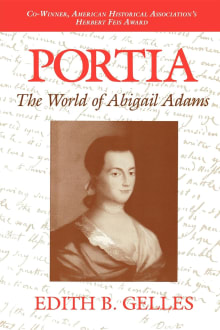 Recommended by Mary Beth Norton
From Mary's list on women in early America.
Gelles has written several books and articles about Abigail (and John) Adams, but this is my favorite. Not a classic cradle-to-grave biography, It examines a series of episodes in Abigail's life and her relationships with her husband, two sisters, and her children, especially her daughter Abigail junior (Nabby) and her son John Quincy. The series of well-crafted vignettes convey great insight into this important "founding mother," the wife of the second president, mother of the sixth, and a lively intellect in her own right.

---