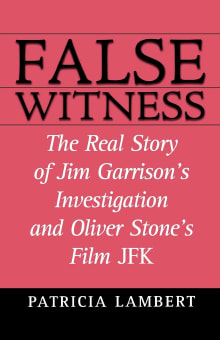 False Witness: The Real Story of Jim Garrison's Investigation and Oliver Stone's Film JFK
By Patricia Lambert
Why this book?
Director Oliver Stone based his 1991 movie JFK on the failed late 1960s JFK assassination probe of New Orleans district attorney, Jim Garrison. In this investigative book, Lambert methodically deconstructs Garrison's investigation and exposes it as a total fraud. Her prodigious original research both archives and interviews is woven into a faced-paced book that is utterly convincing.
From the list:
The best books about who killed JFK
When you buy a book we may earn a small commission.