The Man Who Was Thursday: A Nightmare
By G.K. Chesterton,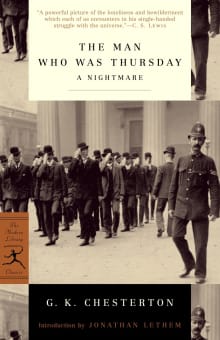 Why this book?
In college, my friend David Michelson introduced me to many new authors, including G. K. Chesterton (best known for his Father Brown mysteries), who mixed philosophy and humor in his fiction. 

My favorite of his works is The Man Who Was Thursday, first published in 1908—a madcap, surreal romp through London, where undercover police are battling bomb-throwing anarchists and nothing is as it seems. 

On a long car trip, I recently listened to the audiobook of Thursday as performed by Nigel Peever, and laughed and thrilled all over again. 
---