The Strange Career of Jim Crow
By C. Vann Woodward,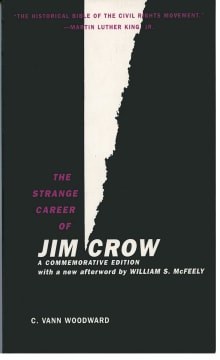 Recommended by Eric Nellis
From Eric's list on African slavery in the Americas.
This succinct and persuasive study of the profound failure to integrate the freed slave population in the U.S. after 1865 is a rare example of a scholarly work's direct influence on governments and the process of reform.  The author's premise and analysis is that popular and local official antipathy to emancipation led to enforced, violent segregation (Jim Crow) that was constitutionally affirmed in the 1896 Plessy case.  The book's three editions follow the history of civil rights reform from the 1950s to the 1970s and the Supreme Court's gradual dismantling of the Plessy rule. While Jim Crow law has been overturned, versions of real-life Jim Crow conditions remain.

---