This Changes Everything: Capitalism vs. the Climate
By Naomi Klein,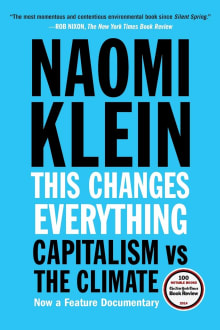 Why this book?
The book that really changed the way I looked at the issue, a book at once terrifying and hopeful. I was already convinced that climate change was real and serious, but this deeply personal book galvanized me—leading to my own arrest at a protest against the BP refinery in Whiting, Indiana, not far from Chicago, where I was living at the time. Klein talks to people, some of the leading climate-change denialists and leading scientists on the other side; she interviews "the new climate warriors" and participates in some of their actions; she digs deep into the causes of climate-change denial, then ends with a chapter subtitled, "Just Enough Time for the Impossible."

Klein is a deeply engaging writer. I began assigning this book in both my undergraduate and graduate courses, whenever appropriate—which was often.

---