I Like Myself!
By Karen Beaumont, David Catrow (illustrator),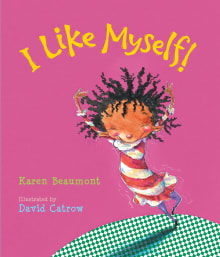 Why this book?
"I like my eyes, my ears, my nose. I like my fingers and my toes. I like me wild. I like me tame. I like me different and the same."
Saying "I like" something about myself is self-affirmation. This book is special to me because this is the first book I read to my daughter during my pregnancy. I remember receiving this book from a dear friend at my baby shower. I always knew that words are powerful, especially words from parents or guardians. Our words promote cognitive functioning. I used this book as the foundation to start incorporating positive reinforcement into my daughter through self-esteem, self-acceptance, and self-love. Besides the message, I love the wild and colorful illustrations.
---