Peaceful Piggy Meditation
By Kerry Lee MacLean,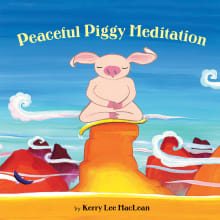 Why this book?
Peaceful Piggy Meditation addresses everyday challenges (like feeling rushed, having a rotten day, or even losing a pet) in a gentle and honest manner, helping readers discover powerful ways to slow down and find a peaceful place inside. I have read this charming book to hundreds of yoga students...children and adults. All ages can relate to "Peaceful Piggy" and always it leaves people inspired and smiling. 
---