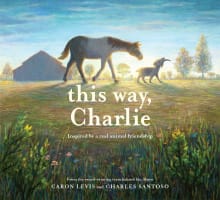 This Way, Charlie
By Carson Levis, Charles Santoso
Why this book?
This Way, Charlie is a beautiful book based on the true story of an unlikely friendship between a partially blind horse and a very grumpy and stubborn goat at a wildlife rehabilitation farm. The gentle text tells their story and shows how a little help from a friend can help overcome all kinds of obstacles, physical or mental. The illustrations are beautifully designed and executed in a soft impressionistic way that is almost dreamlike. Resulting in a heartwarming book that celebrates the kindness, compassion, trust, and strength of a friendship.

From the list:
The best children's books on extraordinary animals
When you buy a book we may earn a small commission.