Poison Study
By Maria V. Snyder,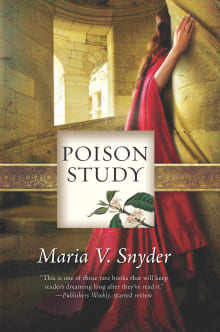 Why this book?
I haven't always been into reading fantasy. Particularly, YA fantasy was a genre I knew not well. Not until I read Maria V. Snyder's Poison Study. 
I was intrigued by the main character Yelena and her less-than-ideal and superbly dark situation. The book opens with Yelena in prison and about to be hanged. But then she is given an offer (by a rather dashing and sexy older gentleman called Valek *obvious cough*) to become their ruler's food taster. To protect him from poison that may be in his food. Seems like a good offer right? All Yelena has to do is stay alive a bit longer and find her way to escape.
Alas, it is never that simple. Each morning Yelena is poisoned by Valek. She goes about her duties and then the following morning she is given the antidote… before being poisoned all over again. So if she runs, she dies. 
Dark? Yes. Clever? Yes. Witty? Yes. Sexy? Absolutely.
---