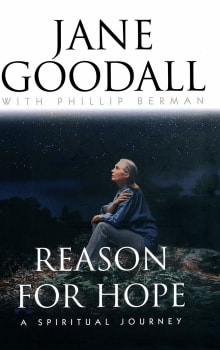 Reason for Hope
By Jane Goodall, Phillip Berman
Why this book?
Goodall is part scholar and part saint, a scientist seer. When her husband Derek Bryceson died after a protracted battle with cancer, Jane was spiritually bereft. Following a bleak year of grief, she encountered a mystical moment of healing.  "It seemed to me, as I struggled afterward to recall the experience, that self was utterly absent: I and the chimpanzees, the earth and trees and air, seemed to merge, to become one with the spirit power of life itself." In that window of altered understanding, time slowed. Perception sharpened. Space seemed more spacious. The forest and its wild creatures, she…
From the list:
The best books on love, loss and our kinship with the animals
When you buy a book we may earn a small commission.