Talking with Bears: Conversations with Charlie Russell
By G.A. Bradshaw,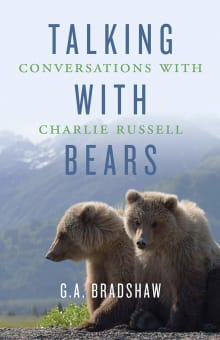 Why this book?
Russell, who died far too young, talks, in particular, about a bear in a remote mountain area of Russia (the Kamtchatka Peninsula) who had young by her side when she came upon Charlie. Convinced he was going to die (who is more protective of their young than a mother bear?), he was surprised, shocked, then delighted when she left her two cubs in his care while she foraged for food nearby. Explanation: She had observed him taking care of orphaned cubs and releasing them in the wild and realized he would make a good babysitter.
This book changed the way people think about bears. It also created a whole new genre: authors who had not been to university, who had no academic credentials, could yet write compelling books about animals because they had first-hand experience with them. Revolutionary. You will come away with a whole new understanding of the bear/human relationship. Just don't go to Russia to study them! If you read the book, you will see why. 

---