Desde la noche y la niebla
By Juana Doña,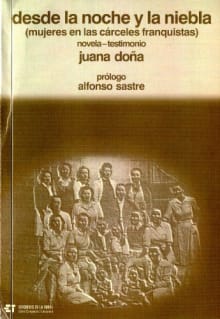 Recommended by Johana Gustawsson
From Johana's list on resistance during The Spanish Civil War.
This is the only book in my selection that can just be found in Spanish language. But it's a fantastic book as Juana Doña wrote a novel about the eighteen years she spent as a political prisoner in the Franco jails. From the night and the fog is a testimony about the resistance that women organised from their prison cells, the fight they led with incredible spirit and resilience despite the inhuman conditions they were living in, mots of them having lost so many loved ones in the war. The horrifying truth shines in a painful but necessary way.

---