A Matter of Death and Life
By Irvin D. Yalom, Marilyn Yalom,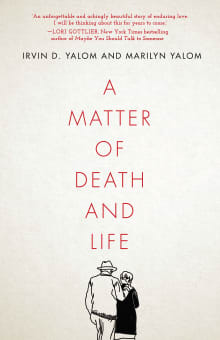 Recommended by Helen Epstein
From Helen's list on getting through cancer treatment.
A Matter of Life and Death is a deeply personal double memoir, written in alternating chapters by a long-married couple in their late 80s. Irvin Yalom is a psychiatrist and well-respected novelist; Marilyn Yalom, diagnosed with multiple myeloma in 2019, was a professor of literature and women's studies. Emotionally intelligent and unusually articulate, the couple was married for 65 years. Though plodding at times, they document in detail the last year of Marilyn's life, from diagnosis to experimental treatment to hospice to physician-assisted death. It is written as a testament as well as a guide.
---