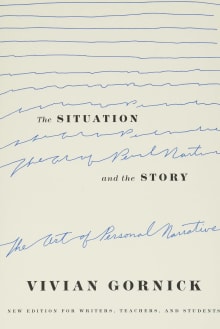 The Situation and the Story: The Art of Personal Narrative
By Vivian Gornick
Why this book?
Sometimes I need a book that will inspire me not to continue writing, but to start; kinda like when I binge watch YouTube book talks—that's the feeling this book brings over me—inspired. It's a book that helps me write anything because I'm a person who struggles with—yet craves the ability to— strip a piece as bare as possible. Strip a story of its fluff and dissect its roots. I need to know what to save for later, and Gornick expressing the difference between situation and story is something I always go back to in order to help declutter my work. 
From the list:
The best books to read when you need a lil bit of everything to finish one thing
When you buy a book we may earn a small commission.