Writing the Natural Way: Turn the Task of Writing Into the Joy of Writing
By Gabriele Lusser Rico,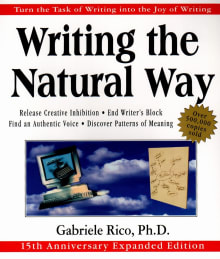 Why this book?
Writing professor Gabriele Rico knows how to take the fear out of writing, which is why this book became such a powerful best-seller and why I love to read and recommend it. Among the many strategies and techniques she offers in Writing the Natural Way, one of my favorites is her brainstorming strategy called clustering, which gives us permission to wander and bypass the critical censorship we are often hindered by. In turn, this fuels creativity and prompts us to make associations among ideas, memories, and feelings that are otherwise seemingly diverse or disorganized. She also firmly believes that, although writing can be a painful process, it's not what hurts us that matters but rather it's how we deal with the pain, and it's through an honest expression of our truth that we can grow and heal.
---