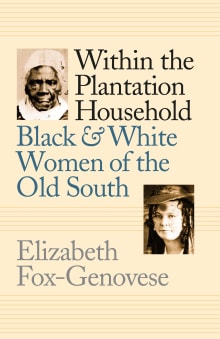 Within the Plantation Household: Black and White Women of the Old South
By Elizabeth Fox-Genovese,
Why this book?
This extensive and prize-winning narrative of Southern women's daily existence in the antebellum era covers all the bases on this subject. With the following chapter titles, how could it not? Southern Women, Southern Households; The View from the Big House; Between Big House and Slave Community; Gender Conventions; Women Who Opposed Slavery; And Women Who Did Not. A must-read for anyone wishing to delve into the subject of women's lives in the antebellum south.

From the list:
The best books on plantation life in the Antebellum South (Colonial and early federal America)