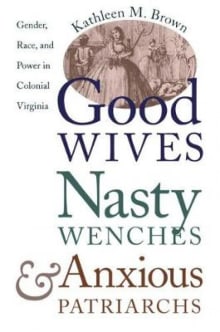 Good Wives, Nasty Wenches, and Anxious Patriarchs: Gender, Race, and Power in Colonial Virginia
By Kathleen M. Brown
Why this book?
A path-breaking study of Black and White women in seventeenth- and early eighteenth-century Virginia, this book shows what can be learned about the origins of slavery in the Chesapeake region from a focus on women--free, enslaved, and indentured alike. Life on early Chesapeake tobacco plantations was very different from the image of "classic," semi-mythic nineteenth-century cotton plantations familiar to Americans today. Living conditions were crude, especially in the early settlements, and the demands of tobacco cultivation differed greatly from cotton production. Brown shows how all the women in early Virginia were critical to the colony's  development.

From the list:
The best books about women in early America
When you buy a book we may earn a small commission.