From a Distance
By Tamera Alexander,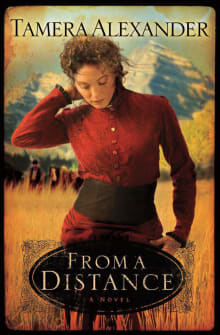 Why this book?
I love happy endings and that's why I read romance—Western romance from simpler, not easier, times. There is always a struggle, an honest hero who is not afraid to fight for what is right and protect the helpless, and a woman who doesn't want the rugged cowboy/lawman/rancher telling her what she can or cannot do. They are a perfect match but it takes at least one of them a while to figure it out.
That's exactly what I found in Tamera Alexander's From a Distance. I was repeatedly startled, anxious, sympathetic, and angry. Alexander is masterful at interlacing passion, promise, and pain in a way that ties up even unexpected loose ends. And I must say, this book had the best ending of all!

---