Grave Matters
By Mark Harris,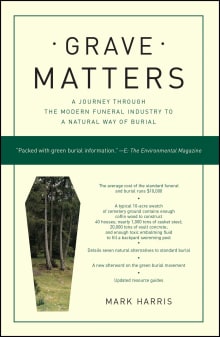 Recommended by Elizabeth Fournier
From Elizabeth's list on if you literally want to go green when you die.
This is the book where it all began. Mark Harris opened up eyes and hearts to the beauty of burying our loved ones naturally and on our own terms. I had never read such a clear reality of the embalming process and how Americans morphed from simple home burial to the industrial Googleplex of the funeral business. Want to be buried in your backyard or with a sheet off your bed? Read this book! The author is a former environmental columnist with the Los Angeles Times Syndicate and his work has been featured in many fabulous places.
---