Leave Only Footprints
By Conor Knighton,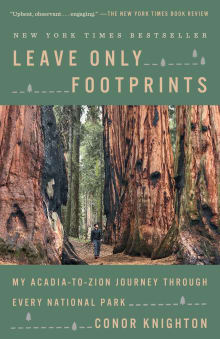 Recommended by Megan Kate Nelson
From Megan's list on America's National Parks.
I'm not usually a fan of memoir, but Knighton's book about his visits to each of the nation's 63 national parks in the wake of a cancelled wedding has it all: history, environmental science, and witty takes. In each chapter, he brings several parks together in a consideration of a single theme: "Water" (Arkansas Hot Springs, Biscayne), for example, and "Mystery" (Crater Lake, Congaree). It's an effective structure that highlights how national parks can surprise you with the meanings they embody, and the connections they have to one another. This is a book for readers who want to get a look at all of America's national parks, through a modern lens. 
---