One of Us
By Barrie Gilbert,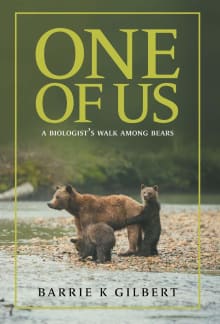 Recommended by Rick Bass
From Rick's list on resistance.
Dr. Barrie Gilbert's memoir, One of Us: A Biologist's Walk Among Bears, is nothing if not a magnificent portrait and case study of humility. A half-century of incisive study and research into the baits, and needs and, perhaps most importantly, social complexity and intense attachments and intelligence of grizzly bears should be the lede here—not a single incident from Gilbert's youth, when he surprised a mother grizzly with cubs while coming over a ridge into the wind. But so goes storytelling. Imbued with the compassion and generosity of the forgiven, Gilbert's acute and intimate knowledge of the animal Indigenous cultures referred to as "the Real Bear" is unprecedented and unequaled in the tattered and impoverished remains of contemporary society in which so many have lost—are bereft of—any attachment to the wilderness from which we were birthed.

---