Grizzly Years: In Search of the American Wilderness
By Doug Peacock,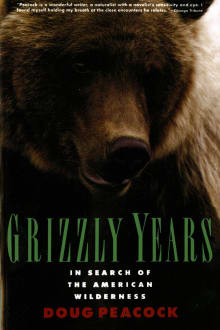 Why this book?
Doug Peacock's Grizzly Years is revolutionary on two counts. The tale of a Green Beret medic devastated from his tours trying to sew soldiers and civilians back together in the killing fields of Vietnam, who seeks—and finds—recovery in the American wilderness: Wyoming's Wind Rivers, the desert Southwest, and, always, the mountains of Montana—particularly Glacier and Yellowstone National Parks. That wilderness can save our lives is a beautifully simple and revolutionary concept for many—that it is not a thing to be frightened of, but celebrated, preserved, defended.
In Montana's backcountry, Peacock was drawn to the grizzlies, observed them at a distance, respectfully, and began filming them. His portraits of them playing show them to be what they are, but what not many had thought—incredibly social, certainly incredibly intelligent, but most of all, incredibly playful sentient beings. What's revolutionary about this is also so simple: observation, and keen attention to detail, is an act of humility. Humility is the only thing that will save the tentative and late-arriving experiment that is Homo sapiens. Here in the twenty-first century, it is the utmost survival skill.

---