Code Name Verity
By Elizabeth Wein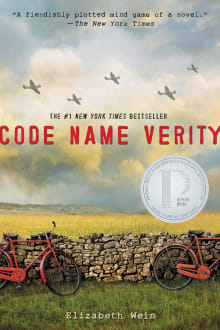 Why this book?
Code Name Verity ticks a ridiculous number of boxes for my favorite kinds of books. Female friendships? Check. Puzzles and mind games? Check. Incredible writing? Check. A snapshot into something I knew nothing about (women pilots in WWII)? Check. Super-moving emotional ending that destroys me but also is deeply satisfying? Check and check again. 
This book is historical fiction, a genre that when done well is just so amazing…it brings me into a time and place I know nothing about, and connects the past to the present. There are spies, daring rescues, and friendships that transcend everything, and bravery and storytelling and…basically everything! And yes, you'll ugly-cry, but trust me, it's worth it.
---
When you buy a book we may earn a small commission.