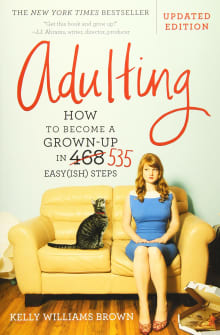 Adulting: How to Become a Grown-up in 468 Easy(ish) Steps
By Kelly Williams Brown
Why this book?
Adulthood seems like a necessary and possibly desirable life stage, but HOW exactly does one do it? What are the essentials? Brown steps away from cheerleading and the examination of deep psychological concepts, and instead focusses on the actual skills you need in order to be a tolerably functional, reasonably independent adult. From how to roast a chicken, to coping with upsells at the lube shop, to responding to dinner invitations, she inventories the things every grownup should (and often doesn't) know.

From the list:
The best books for building adulthood in your twenties
When you buy a book we may earn a small commission.