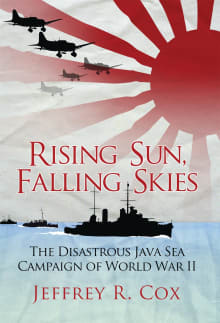 Rising Sun, Falling Skies: The disastrous Java Sea Campaign of World War II
By Jeffrey Cox
Why this book?
Perceptions of the first several months of World War II in the Pacific war usually focus on Douglas MacArthur's actions in the Philippines. Meanwhile, the U.S. Navy and its British, Dutch, and Australian allies waged a largely unsung and losing battle against the Japanese onslaught to control the natural resources of the Netherlands East Indies. Rising Sun, Falling Skies scrutinizes the learning curve of allied command, the hopelessness of facing numerical superiority, and the grim awakening that airpower plays a decisive role no matter how powerful the fleet. Cox's portraits of admirals Thomas Hart and Karl Doorman beg a host…
From the list:
The best books on naval battles in WW2
When you buy a book we may earn a small commission.