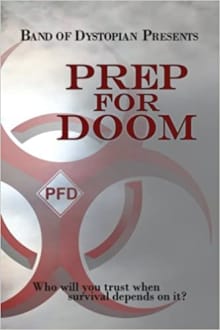 Prep For Doom
By ER Arroyo, Laura Albins, Amy Bartelloni, Brea Behn, Casey L. Bond, TK Carter, Kate Corcino, Harlow C. Fallon, Kelsey D. Garmendia, Caroline A. Gill, DelSheree Gladden, John Gregory Hancock, Casey Hays, Kate L. Mary, Jon Messenger, Monica Enderle Pierce, Cameo Renae, Hilary Thompson, Yvonne Ventresca, Megan White
Why this book?
This collection of short stories by twenty different authors explores how a fictional deadly disease affects a range of people, from scientists to government officials to everyday teens. (My contribution is chapter 13, "Escape to Orange Blossom.") What I especially enjoyed about this anthology is the way that the characters from one story might appear in another. Using a single incident to drive the plot, the collaborative nature sets this collection apart.
From the list:
The best pandemic books published pre-COVID
When you buy a book we may earn a small commission.