The American Plague
By Molly Caldwell Crosby,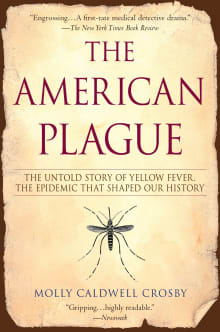 Recommended by Robert N. Wiedenmann
From Robert's list on the history we never learned.
Yellow fever, like many feared diseases, conjures up an image of faraway, steamy rain forests. At one time, yellow fever really was found there. But the disease—and the mosquito that carries it—didn't stay there. I was surprised to learn how prominent and feared yellow fever was in early Colonial America and that it persisted in the United States through the early 20th Century. Crosby provides background on the disease from Africa, its path to the Americas, and routine epidemics in New Orleans, but the book's primary focus is the account of the Yellow Fever Epidemic of 1878 that decimated Memphis, Tennessee, and other towns along the Mississippi River.  I liked this book for filling in the blanks in my awareness and understanding of this American plague. 
---