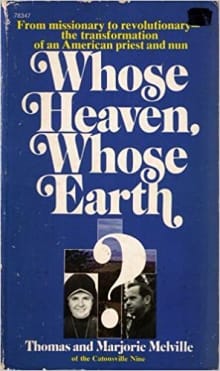 Whose Heaven, Whose Earth?
By Thomas Melville, Marjorie Melville
Why this book?
How did a U.S. priest and nun who went to Guatemala to convert the poor to "proper" Catholicism and to fight communism join a revolutionary movement?
The married couple Thomas and Marjorie Melville explain how they shared the anti-communist views of the U.S. government and the Catholic Church but living among the poor led them to question both institutions' roles in supporting inequality in Guatemala. At the time of the book's publication, 1970, the two were in jail as part of the Catonsville Nine. They, along with other Catholics, broke into a Maryland draft board and poured homemade napalm on…
From the list:
The best books by or about Catholics who joined revolutionary movements in Central America
When you buy a book we may earn a small commission.