The War in Nicaragua
By William Walker,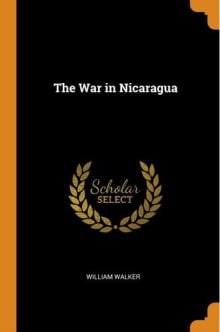 Recommended by Robert E. May
From Robert's list on U.S. filibustering.
What could be better, if you wish to learn about the U.S. filibustering adventurers who invaded Latin America in the 1850s, than to read an account by the most famous of them—William Walker, who left Gold Rush California in 1855 to participate in a Nicaraguan Civil War and rose to the presidency there? The War in Nicaragua is Walker's own autobiographical account of his campaigns and experiences in Nicaragua. Pay attention, particularly, to what he says about slavery and White supremacy towards the end of the book. And remember that Walker conquered Nicaragua over a half-century before the Panama Canal was built. Did his intervention there have anything to do with how Americans got from the Atlantic Ocean to the Pacific Ocean during the Gold Rush?
---