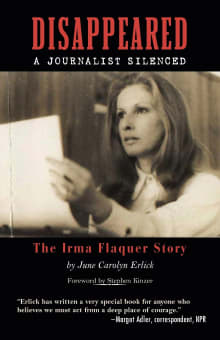 Disappeared: A Journalist Silenced
By June Carolyn Erlick
Why this book?
June Carolyn Erlick, editor-in-chief for ReVista, the Harvard Review of Latin America, casts a seasoned journalist's eye on the 1980 abduction of  Guatemalan journalist Irma Flaquer. Returning home, Flaquer was pulled from her car and was never seen again. Flaquer, a popular and respected journalist with an influential column, Lo Que Otros Callan or "What Others Don't Dare Write",  was also the founder of the first Guatemalan Human Rights Commission. Throughout her career, Flaquer survived beatings, car bombs, and drive-by assassination attempts that did not daunt her from doing her job as a reporter to expose Guatemalan suffering at…
From the list:
The best books on women journalists working in dangerous places
When you buy a book we may earn a small commission.