Bitter Fruit: The Story of the American Coup in Guatemala
By Stephen Schlesinger, Stephen Kinzer,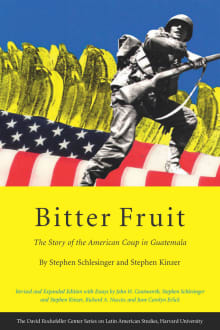 Why this book?
This riveting account of the CIA's first large-scale covert operation in Latin America opened my eyes to what can happen when business interests outweigh political ideals. In 1954 the democratically elected president of Guatemala, Jacobo Árbenz, proposed agrarian land reforms to benefit the poor indigenous population of the country. United Fruit Company, which owned most of the land under threat of expropriation, used its influence with the Eisenhower administration to raise a red flag. Literally. Grossly exaggerating the specter of Soviet meddling, CIA Director Allen Dulles authorized a false-flag operation to remove Árbenz. Read this book to see how things turned out. 
---