A Foreign Affair
By Caro Peacock,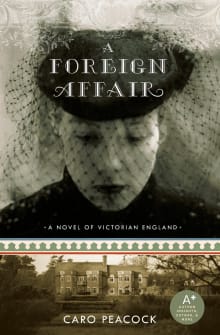 Recommended by John B. Campbell
From John's list on British mysteries of the Victorian Era.
The year is 1837 and Liberty is a fiercely independent young woman. The story begins with her crossing the Channel to find her father, only to discover that he had recently been killed in a duel. In the course of investigating what had happened, she comes upon a plot that involves treason, with the potential to spark another civil war.

What I love about Peacock's work is her use of imagery in echoing a character's psyche or situation. Horse lovers will enjoy Liberty's relationship with her horse and her growing friendship with her good-hearted stable hand. I have not yet put my finger on it, but for some reason, I feel a hint of Edgar Allen Poe when I read her books.

---