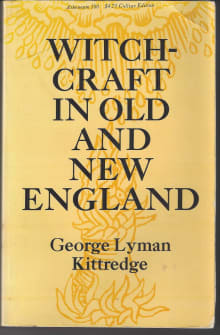 Witchcraft in Old and New England
By George Lyman Kittredge
Why this book?
Nearly a century old now, this was one of the first books to open up this subject for me, and to connect witch-beliefs (and trials) in England and colonial America. It's more of a collection of essays than a coherent monograph, but they're thoughtful essays, and, crucially, not excessively lofty. Kittredge was at pains to understand witchcraft in the past rather than judging it from the vantage point of an enlightened present.

They are chapters on image magic, shape-shifting, diagnostic tests, witches' sabbats, and many other subjects – all discursive explorations, drawing in examples from here and there, and presented…
From the list:
The best books on witch hunting in Colonial America
When you buy a book we may earn a small commission.