Infected
By Scott Sigler,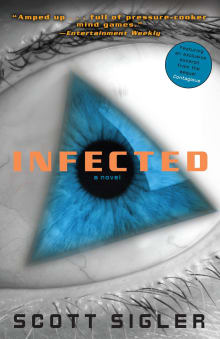 Recommended by Michelle Kilmer
From Michelle's list on plagues of all kinds, including zombies.
Possibly one of the best plague books I've read, Infected introduces us to an extraterrestrial-created epidemic that soon spreads worldwide. Amazing points of view including scientists with the CDC trying real-time to figure it all out as bodies dissolve in front of them and a pro footballer who is determined to survive even if it means he loses some flesh in the process. Gruesome descriptions, tense action. Thank goodness it's a trilogy because you'll want more after the first book.
---