The Crucible of Time
By John Brunner,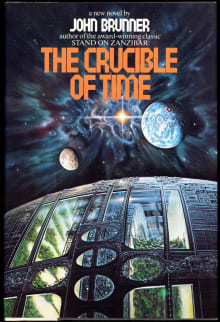 Recommended by C.S. Friedman
From C.S.'s list on aliens in science fiction.
A planet in its equivalent of the stone age is passing through a galactic debris field. An alien stargazer realizes that sooner or later some object will strike the planet and destroy it. The only hope of survival his species has is to leave the planet before that happens. But the concept is a mere abstraction to his people, the equivalent of a Neanderthal saying "we need to travel to the moon," and the task is further complicated by the fact that their technology is biological in nature, focused on the manipulation of living tissue. It is hard to imagine how such technology could ever produce a spaceship. 
The novel--structured as a series of novellas-- follows the development of a fascinating alien species from its primitive roots to an age of high technology, each chapter focusing on a different time period. Always the stargazer's warning is proclaimed by a few…
---