A Fire Upon the Deep
By Vernor Vinge,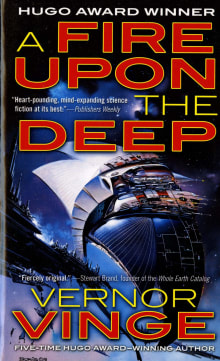 Why this book?
Vinge's tines appear comfortably dog-like in the physical aspect, yet experience life from a perspective that is utterly alien to us. When individuals are close to one another their minds merge, creating a single pack-mind. What elevates this phenomenon above the usual "pack mind" is that the merger does not obliterate individual identities, but combines them into a new identity that reflects all its components. Tine intelligence requires at least four minds to function properly, so a pack that loses members also loses mental acuity. Single tines are pitiful creatures, desperately looking for a pack to join. As such they are perfect experimental subjects for tine scientists, who design cruel experiments designed to document the effects of sustained isolation on the tine psyche. One is reminded, chillingly, of Harlow's Pit of Despair.  
Besides the stunning creativity of Vinge's aliens, it is this last factor that moves them to the top of my list. Observing in the tines the same kind of cruelty that humans are guilty of, we are forced to consider that our darker instincts may not be "human nature", but something more fundamental –natural byproducts of the evolution of higher intelligence. If so, any alien race we contact in the future might have those same qualities.
---