A Fire Upon the Deep
By Vernor Vinge,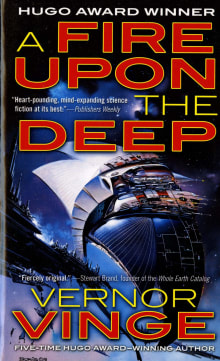 Why this book?
This fascinating book asks "what if" someday we were to meet aliens who form group minds of three to eight individuals whose minds are connected into a collective intelligence by ultrasonic data transfer? With too few individuals such group minds wouldn't be very smart. Minds with too many individuals would tend to be troubled by internal conflicts. 
When two group minds get too close to one another, the ultrasonic messaging from one confuses the other's group mind. 
There are many other "what ifs" explored, including the idea that technology and brains work better in some areas of the galaxy, a possible explanation for why aliens don't visit us—because Earth's in a "slow" zone.
In all, it's a story filled with interesting things to think and wonder about.
---