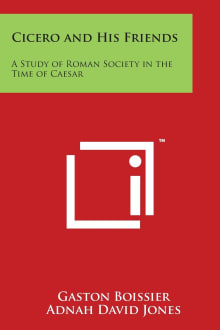 Cicero and His Friends: A Study of Roman Society in the Time of Caesar
By Gaston Boissier, Adnah David Jones
Why this book?
Cicero, the statesman who stood in defense of the Roman Republic against Julius Caesar's popular uprising, was himself a fine writer. Assassinated in the civil war, he never had a chance to write a history of his time. For that reason, I have chosen this beautiful, balanced, profoundly humane study by one of France's greatest historians. Cicero's often solitary stand against the man who was once his friend, his stoic acceptance of what the consequences were to be to himself and his family, and on the other side, the heavy personal cost to Caesar himself of his own advance, are…
From the list:
The best books about history as personal experience
When you buy a book we may earn a small commission.