I Think I Need Speech Therapy
By Nina M. Southern,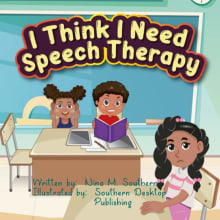 Recommended by Cynthia Sanders
From Cynthia's list on Black education, dreams, and self-love.
This book is about her daughter's personal experience with her speech, and this was a way to help other parents with children how to help their children feel confident about their condition and let other children know that they are beautiful just the way they are. It shows them that nothing is wrong with them, even though they are a little different from the other children, they are still perfect in every way.

---