"Don't You Know Who I Am?" How to Stay Sane in an Era of Narcissism, Entitlement, and Incivility
By Ramani S. Durvasula,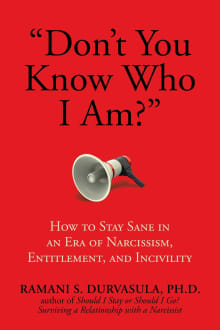 Why this book?
If you feel like the world has become more narcissistic and entitled, then this book is for you. It examines the root of narcissism and how we can and should remove toxic narcissists from our lives. If you have ever witnessed egregious, inappropriate, and downright nasty behavior from others, you will get a deeper understanding of it and how to disengage from it in your own life.
---