Map of Bones
By James Rollins,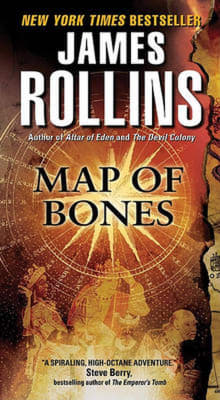 Recommended by M. S. Spencer
From M.S.'s list on treasure hunts.
Not all treasure is gold—in Map of Bones, one of Rollins' many excellent novels, it is bones. Ancient bones. In the aftermath of a horrific crime, the bones of the Three Magi are stolen from a German cathedral. A Vatican investigator and an American covert operative chase the thieves—an ancient cult of assassins—across two continents to recover the relics. Map of Bones is especially appealing to me, being a sucker for historic or exotic settings with which I'm familiar. Rollins' books are all page-turners, fast-paced and compelling, and the Sigma Force series is perfect for those of us who love heroes who can extricate themselves from any predicament. I like my hero complex, yes. Sexy, yes. But above all, really, really good at what he does. 
---