Girl on a Motorcycle
By Amy Novesky, Julie Morstad (illustrator),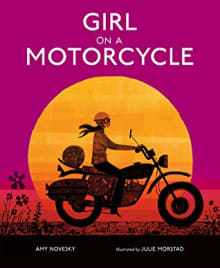 Recommended by Jasmine A. Stirling
From Jasmine's list on women writers and artists.
I relished this chic, wondrous, adventuresome story of journalist and author Anne-France Dautheville's solo motorcycle ride around the world in the 1970s. As a longtime fan of Amy Novesky's work, I learned about the project as Amy was developing it, and waited years for the book, which did not disappoint. Amy's spare, inventive, and poetic prose takes readers on a vivid journey, with distinct, cinematic scenes that make you feel like you've taken the trip with Anne-France. 
As creators, we must sometimes seek to know the world in deeper, more intimate ways. My girls were, interestingly, shocked and amazed at Anne-France's boldness. Although fifty years have passed, Anne-France's trip seems as intrepid as ever.
---