Under and Alone
By William Queen,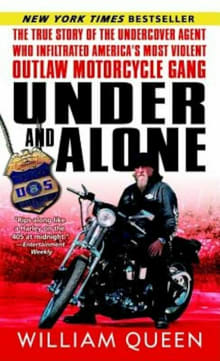 Recommended by Gary Taylor
From Gary's list on true crime memoirs written by actual participants in the story.
Vietnam vet William Queen was capping a 20-year law enforcement career in 1998 when the ATF agent wangled an invitation to join the San Fernando Valley chapter of the notorious Mongols motorcycle club under the code name Billy St. John. He spent the next 28 months rising undercover to the rank of treasurer and vice president, allowing him to provide documents for the arrest and indictment of 54 members by 700 officers in four different states. Queen's 2005 bestselling true crime memoir of his Mongols days ranges from bone-chilling to side-splitting for terror and laughs. Although Mel Gibson reportedly bought the screen rights, a movie has yet to appear.
---