In the Empire of Genghis Khan
By Stanley Stewart,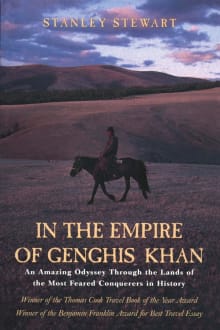 Recommended by Robin Cherry
From Robin's list on traveling that are also insanely funny.
As a child, Irish author Stewart dreamed of riding a horse across Mongolia and this book is the fulfillment of his dream. In the heart of the book, Stewart travels 1,000-miles across the vast steppes of Mongolia on horseback. He encounters stunning scenery, a hilarious nomad wedding brawl, and "a vast medieval world of nomads apparently undisturbed since 1200." This book is worth it just for my favorite exchange.  While Stewart was watching the wrestling competition at  Mongolia's annual Naadam Festival, he asked a fellow observer why the wrestler's jackets had "long sleeves but an open front that left the chest bare." "Keeps the women out," he muttered.  Turns out Mongolian women are fearsome wrestlers. 

---