Wolf Totem
By Jiang Rong, Howard Goldblatt (translator),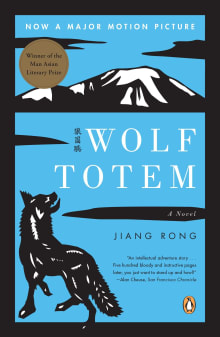 Book description
Beijing intellectual Chen Zhen volunteers to live in a remote settlement on the border of Inner and Outer Mongolia, where he discovers life of apparent idyllic simplicity amongst the nomads and the wild wolves who roam the plains. But when members of the People's Republic swarm in from the cities…
Why read it?
3 authors picked Wolf Totem as one of their favorite books. Why do they recommend it?
Fan Wu
Rong's Wolf Totem is not a typical Cultural Revolution book, and its focus is on relationships between humans and the wildlife of the grasslands. The protagonist is an urban youth, who's a Han (the majority ethnic group in China), sent to inner Mongolia for "reeducation." While trying to raise a wolf cub captured from the wild, he encounters a cultural clash between the Han Chinese and the locals, learns about the wolf and other wildlife, and reflects on history, nature, and humanity. 
Oyungerel Tsedevdamba
When traditional nomadic herders live under communism and alongside aggressive social development, their lifestyle and environment will be disturbed to the core. So, it happens in the Wolf Totem. This book's main characters are a Chinese young student, a Mongol family, and a wolf. Even though the book was initially censored in China, later it became an official market item and a sensational bestseller. I read Wolf Totem in Mongolian language when it was translated from Chinese. It was a slow but beautiful read. I spent one month to digest the book fully. For those, who find it difficult to…
Alice Poon
This is a novel about the crucial role that wolves have played in maintaining the ecological balance on the Inner Mongolian steppes. This theme is woven into a suspenseful story of nomads' brutal fights with cunning wolf packs that constantly prey on their herds. But wolves also keep the population of the "grass grazers" like gazelles and beavers down, thus protecting the grasslands. Readers come to appreciate the importance of balance in nature and understand why nomads hate wolves but also learn to co-exist with them.
I love this novel as it introduces me to a place and lifestyle that…
Our community of 9,000+ authors has personally recommended 100 books like Wolf Totem.
5 book lists we think you will like!
Interested in China, wolves, and the Chinese Cultural Revolution?
9,000+ authors have recommended their favorite books and what they love about them. Browse their picks for the best books about China, wolves, and the Chinese Cultural Revolution.
China
Explore 549 books about China
Wolves
Explore 100 books about wolves